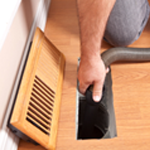 Why should I have my air ducts cleaned?
Air ducts naturally accumulate sizeable deposits of dust and other contaminants over a period of years.
Dirt deposits can reduce the efficiency of your heating and air conditioning system and even cause physical discomfort and illness by degrading the quality of air you breathe indoors.
Dirt deposits in your air ducts actually act as food for organisms such as dust mites.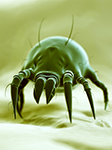 Dust Mite
Contaminates build up inside the return ductwork. Traditional heating and cooling systems recirculate the air in a home via supply air ducts and return air ducts. Many homes have inefficient filters, which trap less than 10 percent of the particulate that is circulated in the system. If not trapped by the systems air filter, the particulate accumulates in the duct work and on the internal components of your furnace or fan coil.
Duct Cleaning Benefits
Cleaning your duct work eliminates these contaminates with the following benefits:
Safeguard your health by eliminating potential causes of allergies and respiratory problems.
Eliminate the dirt that acts as food for dust mites, bacteria, mold and other micro organisms.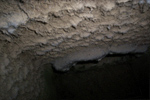 Dirt filled air duct.

Dust mites feeding on dirt in air duct.
What type of procedure does Breathitt Mechanical use to clean my system?
We employ and train highly competent individuals to best serve the needs of our customer. Upon arriving at your home our lead technician will walk through and count the registers in your home while explaining the process to be used in cleaning your system. Source removal duct cleaning is considered the best method for relieving indoor air quality problems and is the only method endorsed by the National Air Duct Cleaners Association (NADCA).
We use high velocity compressed air along with a high volume vacuum system to dislodge contaminates and pull them from your home. We use specially designed air whips, air sweeps and rotary brushes designed to ensure proper removal of contaminates. All grills, registers, diffusers and plenums are cleaned and sanitized. After the cleaning, an EPA approved sanitizer is fogged through the system. This sanitizer will kill mold, bacteria and fungus.
To help ensure a clean, healthy environment, we recommend that air ducts be cleaned every 5 to 7 years.